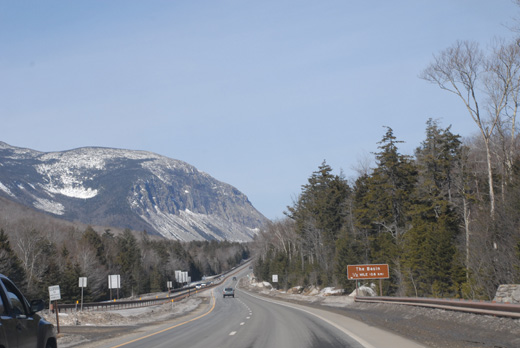 Weaving our way through the beauty of the White Mountains on an unseasonably warm day.
Mrrch 12th, 2012
Roosevelt Metellus, Christa Lamb, and the OH Dogs, Mr. Fred and Jenna Bell took a road trip up to the White Mountains to ask folks what fills their hearts! Laura couldn't make this trip but she was with us in spirit!
We filled hearts in several places…
Franconia Notch, NH
Mount Lafayette
Here are some responses from several of the folks we talked with about what they were doing today to fill their hearts…
Talking with Stacy, we discovered her boyfriend came to visit from Chicago, and it fills her heart to be able to show him around. She said it was such an amazing day up in the White Mountains, how could their hearts not be filled!
Other responses we got:
Karen the cashier at Cannon Mountain Ski Resort said it filled her heart to be getting the spring and summer icecream flavors ready!
Dan & his family said being on vacation up in the White Mountains from Texas. They had their mountain bikes with them, and planned to also go snow boarding and skiing with the kids who are on break from college. Having his family all together filled his heart!
A woman in a smart car said she was so excited to be on vacation after not having one in two years. Just to be out in nature and not working for a week fills her heart!
And as always we'd love to know what are you doing today that fills your heart?